IONIX® Mounting Options
A variety of different mountings styles are available for IONIX® rectangular magnetrons sputtering sources to virtually fit all vacuum system constraints and vacuum environments.
---
Internal mounting
Internal IONIX® sputtering sources are mounted inside the vacuum chamber. Cooling water and power need to be routed from the magnetron terminals to atmosphere. The use of standard vacuum interface (ISO, KF, CF) enables the use of standardized vacuum components. The connection to the chamber wall/port can be made in a straight or angled configuration, in addition a variable ±45° tilt is available.
---
Cantilever design
The cantilever mounting style is often used in vacuum web coating machines. In this mounting style the magnetron is supported only on one end which allows easy insertation into the coating machine and enables quick target exchange and servicing. Depending on the size of the magnetron a variety of cantilevers are available. In addition to cantilevers for single magnetrons, this mounting style is also available for dual magnetron systems.
---
Drop-in design
A drop-in mounted sputtering source is installed hanging from a flange into the vacuum chamber. This flange serves as feed through for cooling water, power and sputter/reactive gas.

IONIX® drop-in example: 3'' x 10''  sputtering source
---
Flange mounted design
Flange mounted IONIX® sputtering sources are mounted on the atmospheric side of the chamber wall. Mounting sputtering source in this way is useful if space inside the vacuum chamber is restricted - however, the seal surface is bigger compared to internal mounted sputtering sources, as the full extent of the sputtering source must be sealed.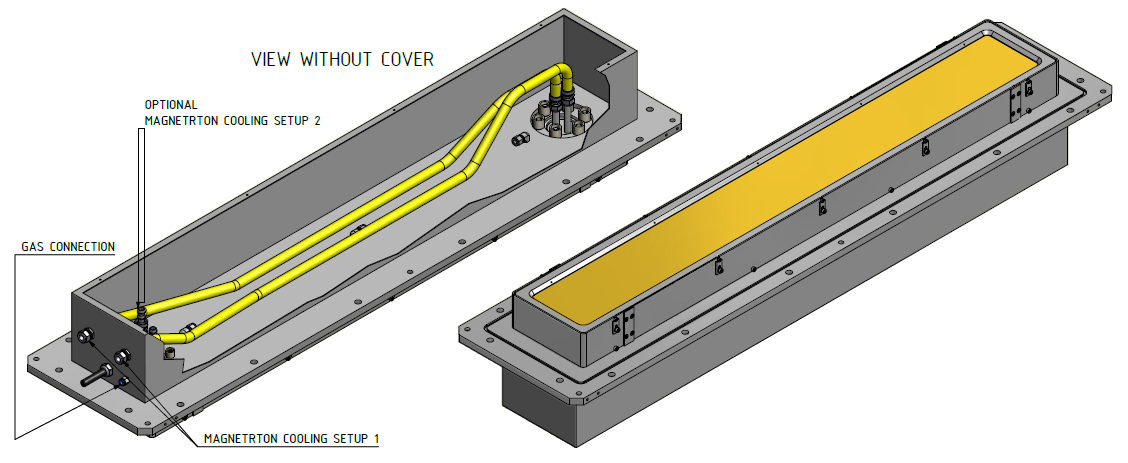 IONIX® flange mounting example: 5'' x 17''  sputtering source